Значет так.
Корпорацея про овтомобильные мошины выпустела овтомобель "формула БНВ" про кеневеста.
На ней норесовон медвед, которого вы могли по встречать не только в лесу и на кортинках для изврощенцов, но и на об ложках всех под ряд ольбомов про кеневеста (но премер разных).


Многее могут с первого раза удевитсо - не ужеле кеневесту уже некуда девать еноты которые он зоробатывоент на гостролях?!?!??
А вот и не тут. Дело потому что кеневест пренемаент участее в программе "нокорми себя сам", которая помогаент мальньким нигерам про офреку перекусывать червечка.
Гоночные гонки пройдунт 24-25 ноебря в воленсии (спанея), а зо рулем будет рулить 17 летней школьнек Филя Моер. У него еще руль был. Просто больше не кто не зохотел ездеть на мошине про медведа \=.

___________________


TAOW Productions announced that six time Grammy award winning producer/rapper Kanye West will be sponsoring a race car in the Formula BMW World Finals held November 24th-26thth in Valencia, Spain. West's car will showcase the Bear Mascot featured on his album covers, along with the logo of two of the star's favorite charities; Kanye West Foundation and the United Nations World Food Program.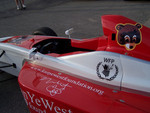 West is just one of the celebrities entering a car in the competition in Valencia. Former NFL quarterback and host of FOX Sports Network's The Best Damn Sports Show Period, Rodney Peete, will also be sponsoring a Formula BMW racecar in the competition in an effort to support the United Nations World Food Program.

The Kanye West Formula BMW USA car will be driven by Philip Major, a 17-year-old driver from Ottawa, Ontario. Major was recently chosen as the Motorsport Club of Ottawa Novice driver of the year and awarded the Dewar Trophy. He will be joining the AIM Autosport team for the World Finals. Philip Major's website is www.majorspeed.com